Your FR Stacking Guide: Rings & Bangles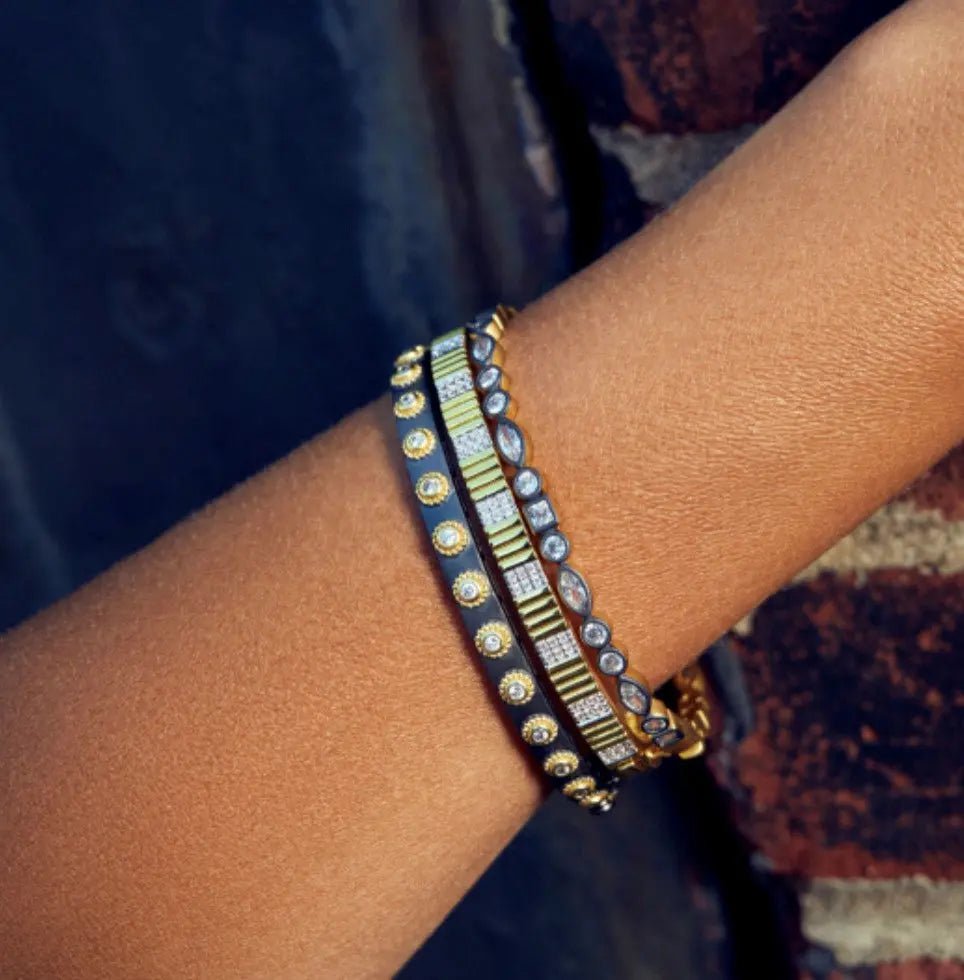 Posted on 28/01/21 by Susan Rutenberg
When you think of FREIDA ROTHMAN, you think stacking!
Stacking is the ultimate way to update an outfit and show off your personal style. Bracelets and rings are incredibly versatile and great for making a statement or adding a pop of color to your look. Take your favorite bracelets and rings to the next level by combining them into the ultimate stack.
The most important thing to know is that there is no right or wrong way to stack.  A stack is a representation of your personal style and should be your own, one-of-a-kind look. Make your arm party completely unique and memorable. If you want to start stacking but are unsure where to begin, here are some of Freida's stacking tips to get you started. 
Hinge or Slide-On
The first step is choosing which bangle style you prefer. Hinge bangles are oval and fit tighter on your wrist, as our wrists are in the shape of an oval.  Our number one stacking bangle is the Signature Studded Eternity Hinge Bangle and is the styles we suggest to start your stack. Featuring our signature matte finish and bezel-set stones inspired by Brooklyn.
Slide-on bangles are round creating space between the bangle and the wrist.  If you're someone who is always on the go, perhaps a slide-on style will be easier to throw on. Both create a stunning stacked look!
Stack in Odd Numbers
Just like your table seating and décor when hosting, everything looks better in odd numbers, including stacks! Whether you choose hinge bangles or slide-on styles, stack in odds to make your arm stun. Your arm is the limit to how high you go.  Start with a stack of three and continue building up to 5, 7, 9, and so on…. 
Add Texture and Dimension to Your Stack
We always recommend adding a variety of textures to build your stack and create dimension. Our stacks are designed with captivating stones and shapes that allow you to mix and match. Adding a chunky chain link bracelet give your stack a touch of edge. The FR Signature Collection features a variety of chunky link styles that will elevate your stack and feature the grit and glamour of Brooklyn. Mix thin filler bangles with wide hinge styles for a stack with dimension as the thin bangles complement statement styles to make them pop. This will make your stack come to life!
Mixing finishes, both high-polished and matte, will also create stunning dimension and allow each bangle style to stand out. Try building a stack with our Industrial Finish Collection and Radiance high-polished collection for a perfect combination of sleek and edgy.
Add a Pop of Color
Whether you've chosen an all gold, all silver, or mixed metal stack, adding a pop of color always catches the eye.  Turquoise stones are a bold choice and pair perfectly with gold or silver. Our Signature Studded Eternity Bangle is offered in many colored variations such as green, red, blue and clear.  Combine them all for a bold stack that complements your favorite black dress. Mix the elegance of our emerald green Midnight collection with edgy black rhodium from Signature for effortless elegance. 
Personalize It
Don't forget you can mix your existing personal jewelry and other designer jewelry, such as a holiday keepsake piece, to your stack to add a sentimental or personalized touch. Stack with your favorite watch and build around it as an anchor style. 
Stack Your Rings
Rings can be stacked just like bracelets and the principles are generally the same. Our stacked ring sets are designed by Freida for the perfect stacked look on your finger.  Wear them together or break up the set across multiple fingers to create your own look.
Single stacking rings allow you to be creative and design your own stacking look, mixing metals and colors. Add cigar band rings or cocktail rings to your hand when stacking for dimension and to break up single band styles. Dress up your wedding or engagement ring by adding single bands on each side. Looking for some edge? Adding midi rings to your knuckles makes your hand pop! 
Stacking is an amazing way to elevate your look, show off your personal style and help you feel empowered with your jewelry. From using multiple piercings for layered earrings, to layered necklaces, to stacked rings and bracelets, remember to have fun when accessorizing.
Freida Rothman has proudly partnered with the 9/11 Memorial & Museum in New York, offering a collection of her meaningful jewelry pieces at the museum gift shop.

As a native New Yorker, partnering with the 9/11 Memorial & Museum is an honor. Each piece from her collection tells a story of strength, honor and hope, paying tribute to the resilience of the city and to all those affected.

Having been shaped so significantly by both the Holocaust and then 9/11, Freida crafts pieces that pay homage to her beloved New York and underscore the importance of never forgetting. The 9/11 Museum gift shop proudly sells several of the pieces, honoring those killed on 9/11, the first responders who risked their lives to help others, and the city residents who came together in the days that followed the attacks. One of the pieces is the Honor Chain Link Pendant Necklace which Freida designed in collaboration with female West Point Military Academy graduates.
"We used the words "Honor" and "Courage" in recognition of first responders who embody these qualities." "We wanted to pay tribute to these brave men and women who risk their lives to help others."
The 9/11 Memorial & Museum featured Freida Rothman, her story and her collections with the above video and below blog post.