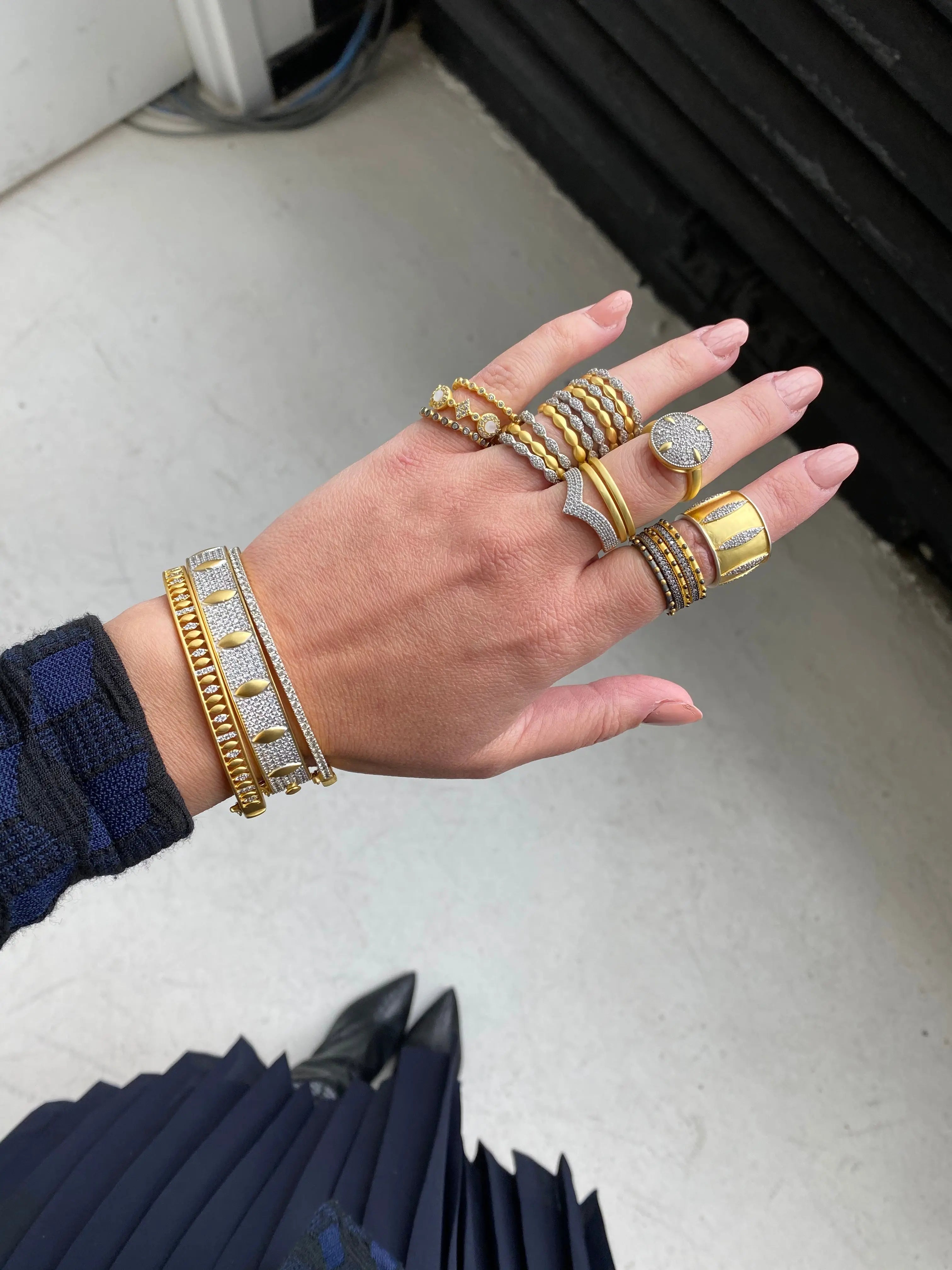 Posted on 26/03/21 by Helene Mayne
Shop Freida's favorite stacking combinations for an arm that stuns! Mix and match our iconic collections to create your own one-of-a-kind stacking style.
A Stack with a Strong Message
Mixing our black and gold iconic stacking bangles for a stunning statement stack. I love starting with a bold statement bangle as the focal point, in this stack I chose two! Our STRENGTH Bracelet is so powerful and gives me strength every time I look down at my wrist. The Chevron Stars Textured Hinge Bangle tells the story of West Point and is inspired by the cadet uniforms. I love mixing STRENGTH with this bangle as it really represents the strength of women in the military. The thinner bangles play off the black and gold details and add sparkle and dimension to this stack.
Industrial Shine
A black and white stack embodies so much edge. I love how sleek black and white colors look in a stack and it really represents the industrial elements of Brooklyn. The statement bangle in this stack is inspired by the train tracks and criss-cross scaffolding around the city. I love the textured metal symbolizing the grit. With this stack I chose to add some of our high polished Radiance bangles to add contrast with the different finishes and represent the gritty and modern elements of Brooklyn. Adding a chain link bracelet always adds a bit more edge and also texture to your stack.
Glistening Gold
This stack is illuminating! If you want a stack that pops on your wrist an all gold look stuns! For this stack I mixed the two finishes of matte gold and high polished which really makes each bangle stand out because of the contrast. The Radiance bangles reflect and catch the light. I also added some mother of pearl into this stack to soften the look and add iridescence.
Freida Rothman has proudly partnered with the 9/11 Memorial & Museum in New York, offering a collection of her meaningful jewelry pieces at the museum gift shop.

As a native New Yorker, partnering with the 9/11 Memorial & Museum is an honor. Each piece from her collection tells a story of strength, honor and hope, paying tribute to the resilience of the city and to all those affected.

Having been shaped so significantly by both the Holocaust and then 9/11, Freida crafts pieces that pay homage to her beloved New York and underscore the importance of never forgetting. The 9/11 Museum gift shop proudly sells several of the pieces, honoring those killed on 9/11, the first responders who risked their lives to help others, and the city residents who came together in the days that followed the attacks. One of the pieces is the Honor Chain Link Pendant Necklace which Freida designed in collaboration with female West Point Military Academy graduates.
"We used the words "Honor" and "Courage" in recognition of first responders who embody these qualities." "We wanted to pay tribute to these brave men and women who risk their lives to help others."
The 9/11 Memorial & Museum featured Freida Rothman, her story and her collections with the above video and below blog post.