LIMITED QUANTITIES AVAILABLE
Women of Strength
The STRENGTH Bracelet
Spend $350 and get the Raindrop Pendant Necklace as Your Exclusive Holiday Gift with Purchase. Limited quantities available.
Ships in 2 weeks.
FREIDA ROTHMAN wins the coveted Design Excellence Award from the Accessories Council for the Social Impact created from the message behind the Women of Strength campaign.
The Strength Bracelet is a .925 Sterling Silver core wide-hinged bangle bracelet. This iconic bracelet is designed in a finish of black rhodium and 14k gold. Wear this meaningful bracelet alone for a statement or in a three-stack or five-stack of bangles for a look that shines with purpose.

This bracelet is also available in alternate finishes of black rhodium and platinum and 14k gold and platinum. The textured dark rhodium finish on this bracelet symbolizes grit and resilience, while handset pavé stones illuminate positivity from within. Clear cubic zirconia is chosen for its resiliency and shine, hand-set for the ultimate long-lasting craftsmanship.

Freida designed the STRENGTH bracelet to honor the legacy of her four grandparents — all Holocaust survivors. They taught her to always see the beauty in life and choose a positive path forward in the face of adversity. The STRENGTH bracelet celebrates and reminds each woman of their inner grit and to make a positive difference in this world.

SHOP TO DONATE: Every STRENGTH Bracelet purchase today is a meal tomorrow for elderly women in need. A percentage of sales from the STRENGTH Bracelet will be donated to Nachas Health and Family Network. Click here to read more about this organization.

An ode to female endurance and fortitude, Women of Strength honors the stories and sentiments of women that have shaped Freida as a mother, daughter, and designer. With brave hearts and bold spirits, these heroes share their own tales of tenacity first-hand with Freida. Learn more about the campaign here.
- .925 Sterling silver core for a strong base that stands the test of time
- 14K Gold and black rhodium in our signature matte finish for resiliency
- Hand-set blue cubic zirconia stones for the ultimate craftsmanship and shine
- 12mm width for a strong statement style in your bracelet stack
- 50 x 62mm inner circumference for an oval shape that fits an average sized wrist with comfort and ease-of-wear
- Hinge clasp closure for security and peace of mind
- This statement style is designed with STRENGTH mirrored on both sides to give yourself and others positivity and resiliency each day
- The STRENGTH lettering is made up of hand-set clear cubic zirconia stones to illuminate the powerful messaging
- Designed in Brooklyn and engraved with FREIDA ROTHMAN insignia to empower

- Each STRENGTH Bracelet purchase comes with a CERTIFICATE OF STRENGTH
SKU:

YRB080222B-BL-H
CATEGORY: BRACELET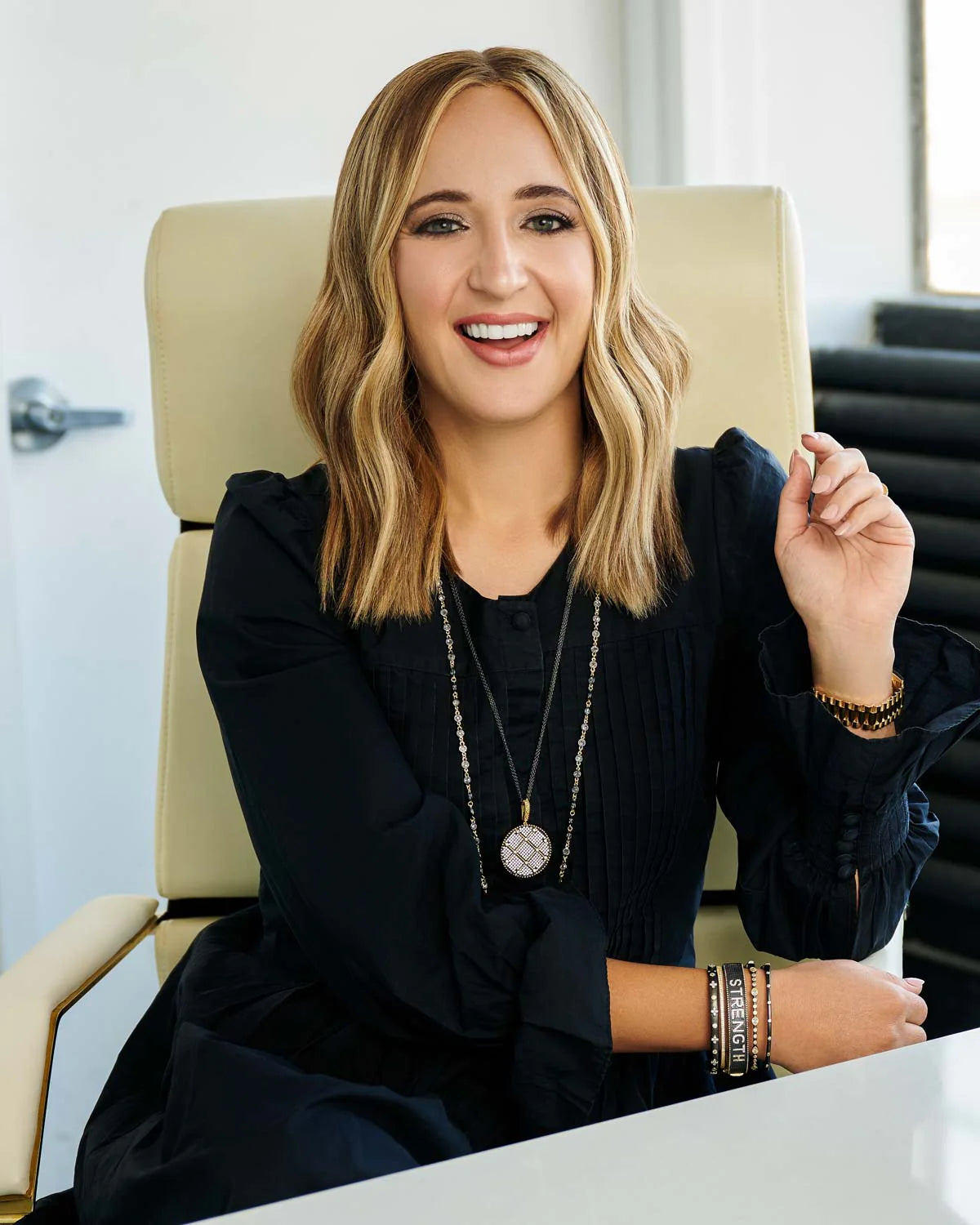 About Freida Rothman
Born and raised in Brooklyn, Freida Rothman is a second-generation jeweler, a mother of four, and an entrepreneur handcrafting glamour for the modern empowered woman. Inspired by the legacy of four grandparents — all Holocaust survivors — Freida's designs honor strength and resiliency through contemporary accessories that reflect her native Brooklyn. Every design elevates Brooklyn grit into effortless elegance for your everyday.
Learn More