Women of Strength: HONOR EDITION

In the second edition of our Women of Strength campaign, Freida chose to celebrate the women in the military, unsung heroes in our country, who exhibit resilience, honor, and courage. It was important to give these women a platform to share their stories of strength; how they overcame challenges in a male-dominated field and their many unforgettable accomplishments. Freida's definition of strength goes back to her roots and her incredibly strong and resilient grandmothers, both Auschwitz survivors who lost their families during the Holocaust and the originial inspiration for the campaign. These women of honor, from various branches of the military, broke barriers, made a difference, and paved the way for younger generations. Watch their inspirational stories of strength in the interviews below.
"You can define yourself as a woman, but you can also be a woman of strength. Your femininity is your strength."

Sara Potecha
Former Army Captain, Author of West Point Woman, Speaker and Consultant to Fortune 100 companies and one of the first women to graduate from the United States Military Academy at West Point.

Sara Potecha is an accomplished author, speaker and consultant who has led cultural transformation initiatives for Fortune 100 and 200 companies and coached hundreds of leaders to higher levels of performance. As one of the first women to graduate from the United States Military Academy at West Point, Sara learned firsthand about overcoming adversity while she learned how to become a leader.
Play the video

Kelsey Baker
Captain, USMC

Kelsey Baker is a former Logistics Officer in the United States Marine Corps. She specialized in getting supplies to Marine's facing combat and fighting in our primary regions of warfare. Kelsey is a former uniformed victims advocate for military sexual assault and is working on her civilian victim advocacy credentials.
Her ultimate goal is to bridge the gap between civilians and military and affect change as sexual health education and the outcomes of childhood trauma through her newfound career path of writing.
Play the Video
"I identify honor with integrity and trying to do what's right by your own moral compass."
"Life is evolving. There aren't challenges in life, just opportunities to grow and learn from each lesson."

Dawn Marie Westmoreland
MM/HRM, CPC, CH
20 Year Retired Air Force Veteran & Speaker, Life Coach, Author, Radio Talk Host and HR Consultant

Dawn Marie Westmoreland has always found her joy in inspiring, supporting, and empowering those who need it most. As a retired Air Force Veteran and Human Resource Consultant with over 30 years of exprience, Dawn's mission is to reduce workplace bullying and discrimination. She aims to empower others who look to her for help. She helps employees and employers create safe and respectful work environments.
Play The Video

Meredith Brown
22-year US Marine Corps Officer and current Senior Business Continuity Consultant at a global financial institution

Meredith Brown is a retired Major from the United States Marines. By building strong leadership skills as a Marine, Meredith Brown has a long list of accomplishments and has successfully led teams at international companies. The culture and lifestyle of the Marines shaped her to become an effective leader, focusing on the mission and caring about the people she leads.
Play The Video
"We want to serve. We want to feel like we're part of something bigger than ourselves. Honor isn't above you, it's about others, it's about how you treat others."
"Figure out who it is that you're brought here to be. Figure out what it is you were brought here to do and do that. Do it with everything you have in you!"

LTC June S. Copeland
Lieutenant Colonel, United States Army

June S. Copeland is currently serving as a Lieutenant Colonel in the United States Army. When graduating West Point, she didn't know the long gray line would continue with her three daughters, June, Jeilyn and Jasmyn. In addition to persevering through her own challenges in the military, June's strength and honor were apparent while raising her three daughters. June, Jeilyn and Jasmyn look up to their mother's strength, and recognize the leadership, lessons and values from West Point that she passed on to them.

June A. Copeland
2nd Lieutenant, United States Army

"As a woman in the military, anything that is required, is something I am able to do. If i can't do it currently, it's something I can train up to or learn to figure out."
Jeilyn & Jasmyn Hanyes
Cadets at the United States Militaary Academy, Class of 2022

Jeilyn Haynes
"Being able to go to West Point with my twin sister is very special. I came to West Point to learn how to lead and West Point first and foremost was a leadership institution. Leadership, and more importantly, character were really important to them."

Jasmyn Haynes
"I came here and saw a lot of similarities between our home life and West Point. When I came here I appreciated the structure and the discipline."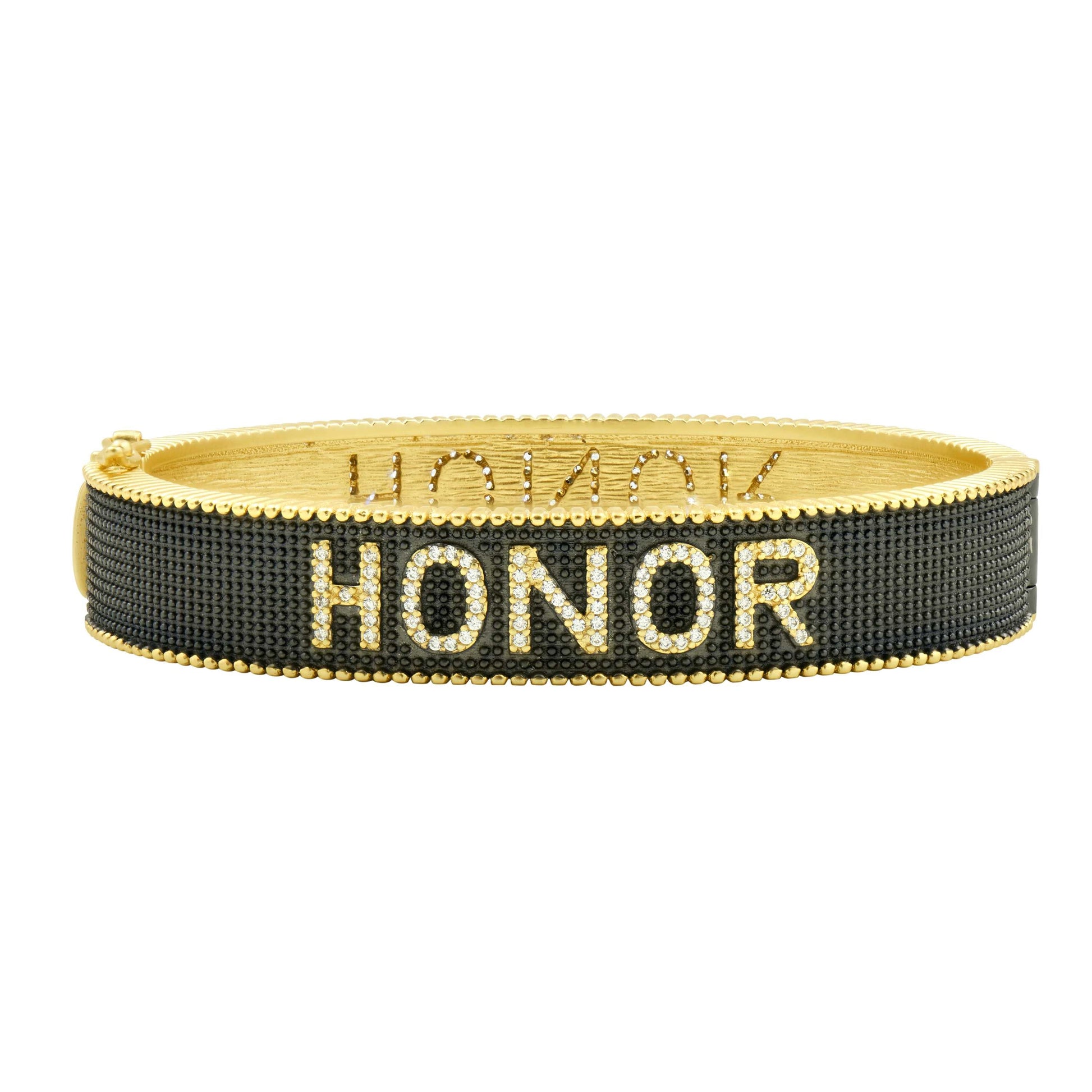 The HONOR Bracelet
"I designed the HONOR Bracelet as way to give back to female veterans, women currently serving in the military and female spouses who embody endless amounts of strength and courage through the challenges and adversities they face. The textured dark rhodium symbolizes their grit and the word HONOR in handset sparkling pavé to remind each woman of their femininity. This bracelet celebrates heroic women who inspire us every day."
Add To Cart

Your Gift with Purchase with every HONOR Bracelet
Receive a signed FREIDA ROTHMAN Limited Edition of West Point Woman written by one of our Women of Strength, Sara Potecha. A powerful read on fundamental leadership precepts taught to Sara at the United States Military Academy. Featuring personal stories that teach readers how to cultivate the character within.

West Point Women is a global network providing mentorship, education, and support to women graduates and cadets of the United States Military Academy. Members network and work collaboratively to pursue a diverse array of professional, personal, and philanthropic opportunities.

Attitudes & Attire offers interpersonal skills training for women who are building better lives for themselves and their families. The wordshops help women learn how to recognize their families. The workshops help women learn how to recognize their self-worth, create a positive image, overcome barriers and improve job search skills. The agency also provides a work-appropriate outfit of the woman's choice from it's boutique, which is stocked with donations from local retailers, manufacturers, individuals, and corporate clothing drives. Boots to Heels specifically addresses the unique needs of women in the military community: Active, Guard, Reserve, Veteran, Spouses of Veterans, and First Responders.